The Multicultural Majority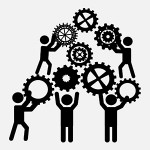 Let's start with the facts. The fastest growing segment of the U.S. population is multicultural consumers. U.S. Census projections show that multicultural populations will increase by 2.3 million year-over-year before representing the majority of the population in 2044. As it stands today, African-American, Asian-American, and Hispanic consumers makeup more than 120 million people combined and represent approximately 38% of the population.
With continued growth in size, comes continued growth in buying power and influence. Multicultural consumers amassed $3.4 trillion in buying power in 2014 and are expected to hold $3.8 trillion by 2017. Add in the fact that they're a receptive and youthful audience, living longer than their non-multicultural counterparts, and you have an audience with significantly longer buying power over time. According to Nielsen, "The effective years of buying power for African-Americans (42.3 years), Asian-Americans (52.3 years) and Hispanics (56.5 years) all exceed that of non-Hispanic whites (36.7 years)." As a result, marketing dollars spent on multicultural audiences provide an opportunity for you to build brand loyalty over a longer lifetime.
So where does the forthcoming multicultural majority begin to poke through? Well, in our culture. In our media, entertainment, habits, values, and voices. The multicultural population demands content that speaks to and for them. They're empowered, expressive, and inclusive consumers that allow themselves to maintain their cultural heritage while simultaneously setting trends as part of the new mainstream. Our culture is multicultural.
Some companies have made steps in recent years to reach the multicultural audience. ESPN launched ESPN Deportes in 2004 to reach Spanish-speaking sports fans. NBC News launched NBCBLK in 2015 as a separate web news platform aiming to create a "conversation about black identity, politics, and culture." In 2014, Target launched Ámbar, a line of women's clothing designed with their Hispanic customer in mind as an effort to better represent their demographic in stores. And just recently, Netflix gave Indian-American comedian Aziz Ansari the go ahead for a second season of his show Master of None. In the first season, Master of None provided explicit commentary on multicultural representation in the entertainment industry in an episode titled "Indians on TV." The episode addressed the type-casting of Indian actors in television, movies, and commercials, yet broke down that very barrier at the same time. A TV show with a multi-dimensional Indian-American actor in a lead role, about TV shows that fail to cast Indian-American actors in non-stereotypical roles. How's that for meta?
Complexities aside, the lesson in this is simple. It's not about mirroring culture, it's about creating culture. And this applies to more than just the advertising world. We'll be taking a closer look at the different populations – beyond just ethnicity – that make up the multicultural audience.